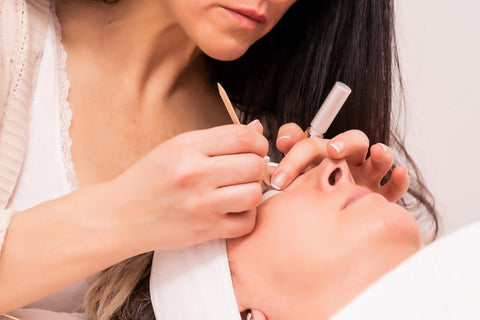 There are a variety of fibers and products out there to choose from when it comes to eyelash extensions. Synthetic lashes are often a popular choice, but they can be uncomfortable, and anyone can easily tell they're fake. That's why for the best eyelash extensions, many choose silk or mink. 
However, there are some key distinctions between these two types of lash extensions that LAshX has highlighted for you here! 
Silk Lash Extension PROs & CONs 
Using synthetic fibers, silk eyelashes mimic the look of real mink lashes, making them a great alternative. In fact, the lashes from LAshX are made from a nylon polymer. If you're looking for a more durable lash extension, silk is always a good choice because they stand up better over time thank mink, especially since you can't get mink lashes wet. Additionally, silk lashes are often easier to put on and remove because they offer better adhesive qualities. 
Also, lash extensions won't stay curled indefinitely and need to be curled regardless of their material. However, you'll find that silk lashes require much less maintenance than mink since they're so resilient. Lastly, for a more eye-catching look, silk is slightly thicker and glossier and can make your lashes truly stand out, especially when you add a little makeup. 
Mink Eyelashes PROs & CONs 
As the name implies, mink eyelashes are most often made from the fur of minks. However, they're also often created from the fur of an otter or ferret. But these days, with so many cruelty-free options out there, many choose to opt-out of real fur from animals. However, for those that do choose mink eyelash extensions, they offer a look that's closest to natural lashes. This is because they taper at the end as real eyelashes do. 
Comfort also plays a large role in the popularity of mink lashes. This is because mink is the lightest eyelash extension material out there. However, it's important to note that since real mink does come from animals, it can irritate those sensitive to cat and dog hair and cause allergic reactions in more extreme cases. 
Contact LAshX today for the best eyelash extensions! 
For the best lash extensions, adhesives, removers, lifts and lamination solutions, order today by contacting us online or calling toll-free at 1 (888) LAshX (527-4952).