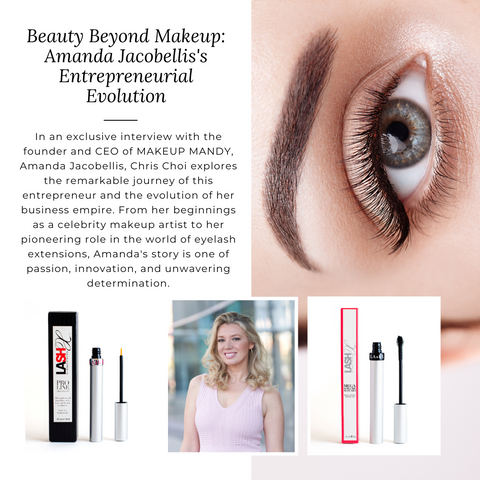 From Celebrity Brushes to Business Strategies: Amanda Jacobellis's Unconventional Path to Success
In an exclusive interview with the founder and CEO of MAKEUP MANDY, Amanda Jacobellis, Chris explores the remarkable journey of this entrepreneur and the evolution of her business empire. From her beginnings as a celebrity makeup artist to her pioneering role in the world of eyelash extensions, Amanda's story is one of passion, innovation, and unwavering determination. As the mastermind behind MAKEUP MANDY and a thriving e-commerce venture, Amanda shares her insights on navigating the beauty industry, adapting to changing landscapes, and the art of staying motivated in the face of challenges. Join us as we uncover the secrets behind Amanda Jacobellis's remarkable success.
A discussion with Amanda, Founder of MAKEUP MANDY
‍
To start off,  can you please introduce yourself briefly? And I'd also like to know what inspired you to start your current business.
‍
My name is Amanda Jacobellis, and I founded MAKEUP MANDY in 2006. I began my career as a celebrity makeup artist and stumbled upon eyelash extensions at a convention. It was a relatively new concept back then. I remember there was a DVD with instructions, all in Korean with subtitles, which is how I learned.
‍
However, I saw the potential in this technique to transform someone's appearance without makeup, and it gained immense popularity. I already had a celebrity clientele, so the transition was smooth. The key difference with eyelash extensions compared to makeup is that it's a recurring service, allowing me to quickly build and maintain a loyal client base. Eventually, I opened my first salon and realized the need for better and safer products, which led me to create my own.
‍
That's fascinating. So, you were running your own offline salon and working with celebrities. But at the same time, I noticed you also have online store, right, on Shopify?
‍
Yes, exactly. As my salon became increasingly busy, I found myself working six or seven days a week, seeing ten to twelve clients daily. I realized that the available products in the market weren't up to par. People experienced allergies, and many products contained harmful toxins. We'd advise clients to clean their eyes, but the existing eye washes would damage the extensions. It was a catch-22 – if they didn't clean, they risked bacteria, but if they did, they'd lose their lashes. So I knew we needed safer and healthier solutions.
‍
One day, I was discussing this with a client who happened to be involved in product development for brands like Murad and Freddrick Fakkai. He offered to help me create the products. That was my entry into product manufacturing, and all our products are unique, not private label. Since we needed to produce in larger quantities, we decided to sell to other professionals who might have similar needs. That's how our product manufacturing and e-commerce came about. We have two e-commerce platforms – one sells directly to customers, and the other caters to spas and salons on a wholesale basis. We currently serve well-known clients like JWS, Ritz Carlton, MGM Group, and many private salons and spas across the country.
‍
Chris: Impressive! Your business has grown significantly.
Amanda Jacobellis: Thank you, but there's always room for more growth.
Between your e-commerce operations and your offline salon, which one is larger in terms of business volume?
‍
E-commerce has become the primary face of our business. I had to make a choice about how to allocate my time. At one point, I had a large salon on Melrose in West Hollywood, a high-end location. We had twelve stylists and offered various services. As the e-commerce side began to expand, I found myself split between two different businesses, and it was challenging to manage. The salon didn't have an office space, so I was constantly moving between my LashX offices (the brand) and the MAKEUP MANDY salon.
‍
This became stressful, and I noticed that when I wasn't at the salon, things would sometimes go awry, typical salon drama, you know. I realized that managing a large team in a salon environment wasn't my forte. Consequently, I downsized the salon. Now, I'm in Beverly Hills in a smaller medical building. I still see clients a couple of days a week, but most of my time is dedicated to e-commerce, and we have other estheticians here offering services.
‍
‍
How many team members do you have in your e-commerce business?
‍
Not many. We run it with just three people. We outsource various tasks, like video production and SEO. We also outsourced our shipping fulfillment, although we recently brought that back in-house because we were unhappy with how things were being handled. So, currently, we handle our own shipping fulfillment. We collaborate with other companies that aren't part of our in-house team, allowing us to be agile and scalable without excessive overhead.
‍
That sounds like a smart approach. Now, what marketing channels are you currently utilizing for your business? I assume things like Facebook ads and Google ads are in the mix.
‍
Amanda Jacobellis: Indeed, our marketing channels vary because our target markets differ. For MAKEUP MANDY, which caters to local salon clients, we rely on Google Business Page, social media, email campaigns, and word of mouth. For e-commerce, we employ a drip strategy, directing people to our YouTube channel. When it comes to professionals, we primarily sell through education. We focus on educating rather than selling.
‍
Our YouTube channel contains a wealth of free content geared towards professionals. Many professionals find their way into our classes through this content and eventually become account holders. Additionally, we have an Amazon presence and participate in trade shows. We also have a few distributors, so there are multiple channels for professionals. As for the B2C e-commerce aspect, it's similar – we use Facebook and Instagram ads, Google ads, and sell on Amazon. We're also present on other platforms.
‍
‍
Switching gears a bit, what have been the most significant operational challenges you've faced in your e-commerce business?
‍
We've recently been through a challenging period due to the impact of COVID-19. Even though online businesses were less affected, our business suffered because we catered to salons and spas that were temporarily closed. Even our direct-to-consumer customers were less active during this time, with makeup taking a back seat. We had to pivot and adapt to the situation. We used to offer in-person training, but we shifted to an online model, allowing individuals to acquire new skills during the lockdown. While others were facing closures, they were learning through our online courses.
‍
However, it wasn't easy, and cash flow management was a significant challenge during this period. We maintained expenses, including employee salaries and rent, even when sales came to a standstill. We had to cut back on marketing, and we're still feeling the effects of that decision because the marketing cycle takes time. In terms of e-commerce, I'd say growth has been one of our primary challenges. We operate with a lean team, and downsizing during COVID affected us. We had to continue paying employees and rent with limited sales. So, yes, cash flow was a major issue. Being a small team, we wear many hats and prioritize providing excellent customer service. However, it also allows us to be nimble.
‍
Looking ahead, what are your goals for this year, and what are your long-term goals for the next five years?
‍
We actually had a meeting about this today. Our immediate goal for this quarter is to establish our new systems and structure. We want to be prepared for growth, so we're focusing on documenting processes and creating standards of practice. This way, when we expand the team, new members can seamlessly integrate into our operations. Historically, we haven't been great at documenting every step of the process and implementing automated systems.
‍
So, we're working on solidifying our foundation to avoid disorganization. In the longer term, we plan to hire more team members within the next year, especially salespeople and educators, to help us reach more clients and provide personalized training. We're also excited about launching one or two new products next year. There's always something exciting happening.
‍
That sounds like a well-thought-out plan. Finally, what advice would you give to someone starting their own business?
‍
The best advice I can offer is to be tenacious. You'll encounter numerous obstacles and face negativity, sometimes even from loved ones who may want to protect you or may not see your vision. It can be challenging, so you have to be persistent. Entrepreneurship is a roller coaster ride. One day, you'll feel like you're on top of the world, making substantial profits, and the next day, you might wonder how you'll pay the bills. There's always a new challenge around the corner. So, you have to be a stubborn individual who says, "No matter what, I'll figure it out. What's the next step?" That, I believe, is the key.
‍
Chris Choi: That's excellent advice. Thank you for sharing your insights and experiences with us, Amanda.
‍
Key Takeaways:


Perseverance Pays Off:

 

Amanda Jacobellis's journey from celebrity makeup artist to thriving entrepreneur underscores the importance of unwavering determination in the face of challenges.
Adaptability is Key: Amanda's ability to pivot her business during challenging times, such as the COVID-19 pandemic, demonstrates the vital role of adaptability in the entrepreneurial world.
Client-Centric Approach: Amanda's dedication to providing exceptional customer service highlights the significance of nurturing strong client relationships to drive business success.
Commitment to Education: Emphasizing education over sales, Amanda's journey underscores the value of continuous learning and sharing knowledge in a rapidly evolving industry.
‍Innovation Drives Growth: Amanda Jacobellis's remarkable success story serves as a testament to the power of innovation, dedication, and a relentless pursuit of excellence in the beauty industry.