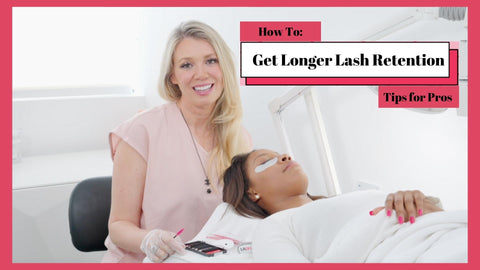 Elevate Your Lash Experience with LAshX: A Comprehensive Guide
Discover the revolutionary LAshX system, where every step is meticulously designed for lash retention and health. Begin by mastering the vital art of cleansing, ensuring a flawless foundation for lash extension application. In today's video, we adapt to the situation by using our Protein Remover Wipe for swift cleansing.
Here's the game-changing insight: with LAshX, there's no need for primers. Unlike traditional primers that can compromise retention, our system prioritizes hydration for extended lash life. This retention advantage not only saves clients time but also allows lash artists to command premium rates for their expertise.
Unveiling the three pillars of the LAshX system:
Cleanse: The bedrock of a successful lash journey. Our advanced LAshX cleanser empowers clients with the knowledge of proper lash hygiene. In this video, we use the Protein Remover Wipe for efficient cleansing.

Apply: The magic of our innovative adhesive eliminates the need for primers. This means optimal hydration for superior retention. Clients experience longer-lasting lashes, translating to fewer appointments and greater value for both parties.

Maintain: Aftercare is key. Clients learn the importance of the Pro Liner application and consistent cleansing to keep their lashes looking pristine.
Watch the enchanting transformation as Frankie's lashes are revealed, enhancing her pageant dreams. Admire the beauty and impact of her upgraded lashes.
To maintain these stunning lashes:
Avoid water for the initial 24 hours.
Our care kit includes a safe cleanser for regular maintenance.
Introducing the Pro Line elixir - a clear lash serum that enhances lash health and extension retention. Experience the remarkable volume transformation for natural lashes and prolonged extension allure.
Join the LAshX community - like, comment, and engage. Your involvement fuels our dedication to sharing beauty insights. Stay tuned for our upcoming video, where we continue to explore the forefront of lash perfection.