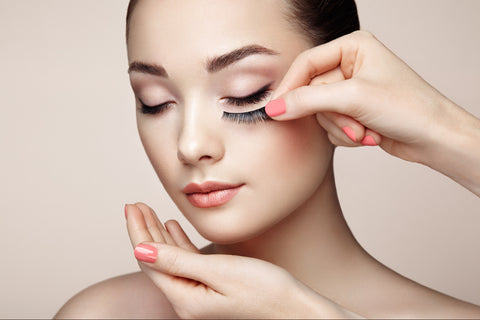 Lash adhesive is what you use to bond eyelash extension lashes to the natural eyelash and keep them from falling off or to attach falsies to the lash line. Whether you're using mink, synthetic, or silk lashes, you'll need to find a reliable adhesive that's durable and long-lasting; and most importantly, safe on natural lashes. 
That's why the team from LAshX has collected this short guide for you here on selecting the best lash adhesive for you! 
Strip Lash Adhesives 
One of the most popular lash adhesive types is strip lash adhesive, which comes in various shapes and sizes to suit your lashes. Strip lash adhesives usually have an adhesive that is white and dries clear or dark when it dries to match your false lashes. Strip lash adhesive is latex based and offers a long hold of 1 night to 2 weeks. These adhesives often don't require lash adhesive remover and can be gently pulled away from the eyelash or soaked off with oil. 
Individual Lash Adhesive Options 
Individual lash adhesive can be applied to single lash or flared clusters, often called "party lashes" or individual clusters. These lash styles offer more custom options for the wearer, enabling them to truly complete the look/effect they're after and can last up to a few weeks. Since they are designed to keep lashes in place the longer lasting adhesives do require lash remover. These adhesives are also latex based and come in clear or black options.  
Surgical Lash Adhesives 
Unless you're a stylist, beautician, or cosmetic expert, it's highly recommended to avoid applying surgical lash adhesives on your own. This is because it can be disastrous unless you're trained to apply them due to the strength of their bond. One slight mistake could mean a painful removal process and or possible lash loss. These adhesives are meant to last up to 8 weeks or as long as the actual hair lasts before shedding. The extensions will shed with the natural lash every 60-90 days. These adhesives come in black, purple and clear. They are Cyano-acrylate based. It is important to note these products come from all different places with no real regulation and so ordering from a reputable company is important. The Cyanoacrylate comes in different types with different chemical bases, some are more industrial quality while others are safe enough for invivo use (In the body). Make sure to choose an adhesive that doesn't make you or your clients eyes water from fumes or smell and one that dries flexibly to move with the natural lash. Thick stiff adhesives can cause natural lash damage when the wearer sleeps or rubs. 
Always offer an allergy test 
When shopping for lash adhesive, Allergy testing is always a good idea. Trying out various lash adhesives will ensure that the one you choose doesn't cause any irritation or a negative reaction. Waiting 24 hours before using it is a good idea to determine without a shadow of a doubt how your skin will react to it. Also, always follow the application instructions from the manufacturer. Often, they'll offer advice on how to get the most out of the adhesive you've chosen. 
Contact us for professional grade  lash adhesives, eyelash extensions, and more today! 
In addition to our lash adhesive and removal products, we stock a wide range of lash extensions, lifts, and much more. Order today by contacting us online or calling toll-free at 1 (888) LAshX (527-4952).