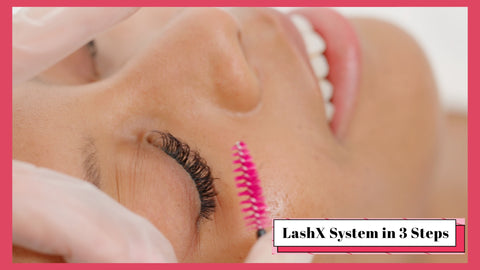 Introduction:
Lash extensions have become increasingly popular in recent years, providing clients with stunning, voluminous lashes that enhance their natural beauty. In this blog, we delve into the LashX system, a comprehensive approach to lash extensions that focuses on effective cleansing, adhesive application, and meticulous aftercare. Join us as we explore the key steps of this system and understand how it revolutionizes the lash extension experience.
Read more on how it works here
Step 1: Thorough Cleansing for Optimal Results
The first step of the LashX system emphasizes the importance of proper lash cleansing. Clients are guided to use the LashX cleanser to wash their lashes over the sink, ensuring a clean and residue-free base. By teaching clients how to clean their own lashes, they can maintain their extensions' longevity and overall health.
Step 2: No Primer Needed, Emphasizing Retention
Unlike traditional lash extension systems, the LashX system eliminates the need for a primer. Primers often contain alcohols that dehydrate the bond, leading to quicker adhesion but compromised retention. By avoiding primers, the LashX system promotes superior retention, allowing clients' lashes to last longer and reducing the frequency of salon visits. This approach provides clients with a time and cost-saving benefit while enabling lash technicians to charge a higher rate per hour.
Step 3: Application and Aftercare for Stunning Results
The application stage of the LashX system involves using their patented lash and adhesive, known for its thin consistency. This unique adhesive ensures a seamless and natural lash extension experience. Following the application, clients are advised to follow the aftercare routine, which includes regular cleansing and the use of the LashX Proliner. This clear eyeliner not only acts as a lash serum to promote natural lash growth but also contributes to better retention, keeping the extensions in place for an extended period.
Sculpting Lashes and Minimizing Waste
The LashX system encourages lash technicians to approach their clients' lashes as a form of sculpture. By analyzing the natural lash shape and strategically adding length, technicians can create a fuller and more defined look. This approach allows for personalized customization and enhances the overall aesthetic appeal of the extensions.
To reduce environmental impact, the system suggests using the back of the gel pad as a palette for adhesive application. This eliminates the need for plastic glue rings or jade stones and minimizes waste. The adhesive itself can be stored in the fridge for up to a year and should be shaken gently before use. One drop of adhesive is sufficient for a full set, and proper storage and dating ensure its longevity and effectiveness.
Maintaining Lash Health and Longevity
The LashX system emphasizes the importance of proper aftercare to maintain lash health and prolong the lifespan of extensions. Clients are advised to avoid water contact for the first 24 hours and provided with a care kit that includes a lash cleanser and the proline lash serum. Regular cleansing and nightly application of the serum not only enhance retention but also promote the growth and health of natural lashes.
Conclusion:
The LashX system represents a holistic and innovative approach to lash extensions. By prioritizing thorough cleansing, eschewing primers, and implementing meticulous aftercare, this system ensures optimal results, longer-lasting extensions, and satisfied clients. Its focus on customization, waste reduction, and lash health sets it apart from traditional methods, delivering a superior experience for both lash technicians and clients. Embrace the LashX system and elevate your lash extension journey to new heights.
Try the LashX System now with code CORE20B for 20% off our Core Kit! 
The first step is our LAsh Cleanse
This aloe based cleanser is free of surfactants, parabens, oils, glycols and alcohol which means it naturally cleans lashes, removes bacteria without dehydrating the lash and skin.  A hydrated lash is going to hold the extension adhesive longer providing a longer lasting result and healthier lashes. Ingredients like biotin, and panthenol help promote the natural lash health and camomile and cucumber are hydrating and anti inflamatory for those of us with sensitive eyes. 
Step 2 is the Patented Flexihold Technology 
This is when our thin flexible adhesive bonds with our patented lash that is made out of a nylon polymer. The micro mesh allows the adhesive to bond with it creating a light flexible bond that moves weightlessly with the natural hair preventing torque at the hair follicle. Lash extensions last longer without causing any pulling on the natural lashes.
Step 3 is aftercare. 
In order to maximize how long the lash extensions last we utilize the lashx Lash Cleanse to remove natural oils and hydrate the bond and our Proline which literally keeps the lash in the anagen phase 48% longer increasing the entire lash cycle. In addition the Proline will root the hair with protein, making it stronger and stimulate kerotin production resulting in more longer thicker healthier natural lashes. 
We reccomend using oil free makeup- even on the bottom lashes the LAshX Lash extension safe mascara is key to preventing clumping of the extensions.