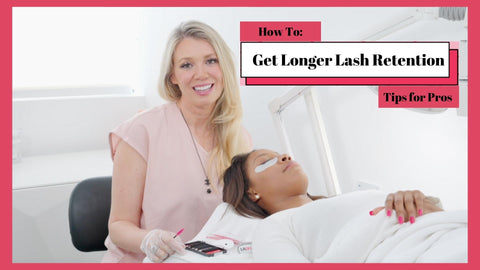 Unlock the Secrets of Perfect Lashes with
L

AshX:

Step-by-Step Guide

 

Discover the Ultimate Lash Extension Revolution: The LAshX System Unveiled

In the realm of lash extensions, the initial step of the LAshX system is centered around the pivotal process of cleansing. Typically, clients are guided to use the potent LAshX cleanser at the sink for a thorough wash. This not only guarantees a pristine foundation but also empowers clients with the knowledge of proper lash hygiene.

For today's video, focusing on stability, we're opting for our Protein Remover Wipe to swiftly cleanse both lashes and lids. Now, let's delve into a game-changing fact: the LAshX system eliminates the need for a primer. In fact, we strongly advise against its use. Primers, often containing alcohols, can dehydrate the bond, leading to rapid adhesion but decreased retention. For busy clients valuing long-lasting results, optimal retention is the golden key. Extended lash life translates to less frequent appointments and a greater return on investment, fostering a mutually beneficial partnership.

The LAshX Edge: Unveiling the Triad of Success Embrace the core principles of the LAshX system - Cleanse, Apply, and Maintain - for unparalleled lash brilliance.

Step 1: Cleanse - The Foundation of Excellence Begin with meticulous cleansing, using our revolutionary LAshX cleanser. Through a dynamic process, we empower clients to take control of their lash hygiene. Today, due to video constraints, we're opting for our Protein Remover Wipe for efficient cleansing of lashes and lids.

Step 2: Application Magic Our breakthrough LAshX Speed adhesive is a marvel, eliminating the need for a primer. Unlike traditional primers, our system ensures optimal hydration for extended retention. This retention advantage proves to be a game-changer for clients with demanding schedules. Increased lash longevity translates into fewer visits, while elevated expertise allows for premium hourly rates. Clients save time and money, solidifying the value of our services.

Step 3: Aftercare Excellence After the stunning application, it's time to impart the knowledge of proper aftercare. This includes the Pro Liner application and diligent cleansing routine. Clients equipped with this know-how can maintain their luscious lashes with ease.

Frankie's Transformation: A Pageant-Ready Revelation Observe the remarkable transformation as Frankie's lashes are unveiled, igniting her pageant dreams. Witness the awe and admiration as she gazes upon her enhanced lashes. The impact is undeniable - the epitome of lash perfection.

Safeguarding the Splendor: The Care Kit To preserve these remarkable lashes, adhere to the care guidelines. For the initial 24 hours, avoid water exposure. We provide a comprehensive care kit, complete with a safe cleanser for regular maintenance. This ensures that lashes remain pristine, free from oil and buildup.

Introducing the Pro Line Elixir Discover our Pro Line, a revolutionary clear lash serum that elevates lash health and extension retention. A nightly application transforms natural lashes, tripling their volume. Witness the transformative power as extensions maintain their allure for an additional two weeks.

Thanks for reading for 20% off your first LAshX order use code: NEWBIE

For full training and lash certification information visit us HERE! 

Join the LAshX Movement: Like, Comment, and Engage Become a part of the vibrant LAshX community. Your likes, comments, and engagement inspire us to continue sharing beauty insights. Don't miss our next exciting video - your gateway to discovering the latest innovations in lash perfection.