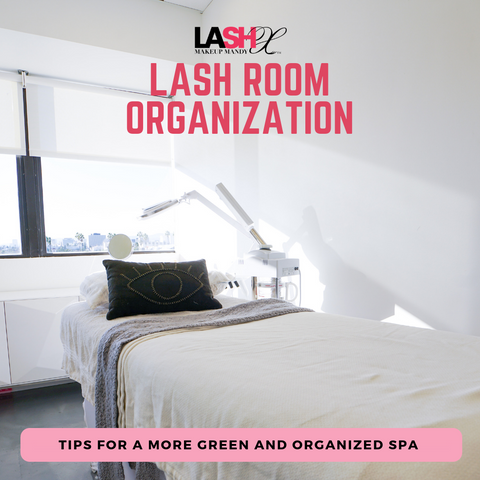 Its 2019! and I have a New Year's resolution for a cleaner, greener, more organized lash room. So I decided to share what I did to make my room at Makeup Mandy more organized and earth friendly. Here is my Marie Kondo -esq video along with my top tips for creating major environmental change! 
Don't forget to subscribe to our Youtube for new videos every other Wednesday! 
Global warming is not going away and we as beauty professions have a great obligation and privileged to lead the march to more eco friendly business and lifestyle. As beauty professionals we touch and speak to so many consumers a day we have a great opportunity to spread the word and examples of clean living practices and have a huge impact on our environment at the same time. 
I was reading a study that mention how beauty professionals are usually less educated and therefore less likely to care about environmental practices. this made me so angry and I know it is absolutely not true. Through working with hundreds of professionals on a daily basis I know that we are leading innovation in green practices (and education duh). 
Here are my top ideas for going green in the salon or lash room. 
Sky lights - If you have the opportunity to design your own space incorporating natural lighting as much as possible into your room design will not only save your electric bill but also lighting energy. 
Cruelty Free Products With No Animal Testing.
I am a big proponent in not using real mink lashes and instead choosing a faux version.  The LAshX Lashes for example are just as soft as the real thing but hold their shape better, will cause no allergies and are not harming any animals in the name of vanity. 
Use the same scrutiny when choosing what brands of products you use and make sure they do no animal testing. I like to choose vegan products whenever possible. 
Disinfectant - Most of us have been trained to use Barbicide but did you know there is a safer Disinfectant out there. EPA approved Rejuvenate Disinfectant liquid and wipes are healthier for us to breath, with no caustic fumes but they dissolve in to just water and carbon when poured down the drain. This means they are completely Eco Friendly as compared to QUATS which releases caustic fumes that we should not be breathing and is a contaminant when poured down the drain.  
Plastics - Just say no. Plastics release phalates into our environment and pollute our oceans and land because they do not ever biodegrade.  There are lots of innovative ways to limit plastic use in the lash room. Choose paper, glass or bamboo containers to store products  and use reusable tools when possible. Plastic mascara wands can at least be donated for good to causes such as #Wandsforwildlife. One way I do this is by not using a glue ring.
I reuse the back of the gel pads as my adhesive pallet. This saves on waste and my time and money! 
LED LIGHTS -  Switching all your bulbs to LED versions will create a lot less waste as they burn for so much longer and will save on energy. 
Links below for the items that I used to organize in video!
LAshX Lash Speed Adhesive - Fume Free https://www.lashx.pro/collections/adh...
My favorite gel pads https://www.lashx.pro/products/anti-a...
Clear lash display towers https://amzn.to/2MG0rgS
Underbed covered storage large https://amzn.to/2Sbe9xD
Smaller covered towel storage https://amzn.to/2TjcSBD
LAshX Spandex Bed Cover https://www.lashx.pro/products/bed-co...
Drawer organizer https://amzn.to/2MNhIFb
Eyelash storage jar https://amzn.to/2SiUrzS
cabinet organization https://amzn.to/2To3jl0
Please comment below with your tips and tricks on how you make your spa or lash room more green and organized! Together we can change we can make a huge difference!
Here are a few more ideas we received from other amazing LAshX lash artists! 
Choose eco-friendly packaging 
Buy in bulk when possible to save on packaging
paint - VOC Free 
eco freindly laundry detergent and cleansers
use popsicle sticks instead of plastic spatulas
refreshment center with washable mugs instead of paper
 multi use items
water saving heads
toilets water saving
organic bamboo linens