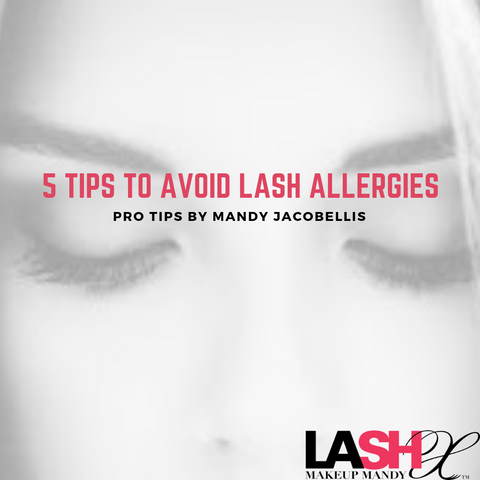 Hey Lash Pros, 
So many of you have switched to our brand because you have experienced issues with lash allergies to other products and you found out about my story. We get daily questions about allergies. There is a lot of confusion about lash adhesives and what in fact clients are allergic to. Most times clients are allergic to the fume produced as the adhesive cures and what most lash companies don't want to tell you is that that fume is actually formaldehyde being produced during the curing process, so they tell you that your client is allergic to the Cyanoacrylate.
This in itself is confusing because there are many types of Cyanoacrylate adhesives. They are made differently with different ingredients as the base. Some are industrial grade and used in weapons and other are clean and medical grade used in vivo or in the body for medical reasons. READ MORE ABOUT LASH HEALTH AND SAFETY HERE 
Depending on which Cyanoacrylate you use there fume can be different but almost all of the lower grade off gas Formaldehyde. Which I feel, In my research an my own experiences, is the real culprit. Almost everyone, will become sensitized to formaldehyde, with exposure over time, because it is a toxin. The more exposure we get the more we react an that is why many clients can wear lashes for years with no reactions and then eventually become allergic. 
1. So my First tip to avoiding lash allergies is to minimize or get rid of products emitting Formaldehyde 
2. Don't Let your Adhesive Spoil! Avoid letting it EVER go above 80degrees. This includes in shipping. Don't leave it in a sunny place like the car or your window. Toss any opened adhesive after 3 months! 
3. Never let adhesive get on cotton. This includes paper tape, masks, gel pads. Cotton + Cyanoacrylate = no bueno. 
4. Use proper cleanser and skip primers and sealers.
5. Only apply the best quality gel pads! Lower grade gel pads can cause allergies themselves
6. Clean with Aloe based lash cleanser
6. LED therapy. 
What makes our product different?  LashX Speed Adhesive is a clean product that doesn't have fume or off gas so allergies to it are very rare. We have taken a medical grade surgical adhesive and purified it our product and added a monomer to the polymer to neutralize the adhesive and keep this from happening and that is why very few people are allergic to our adhesive. However it is still possible to have allergies to anything and many times these can be avoided by taking some simple precautions.  
If you found this blog helpful please consider joinning our mailing list below, to stay up to date with new educational content. You could also subscribe to our YouTube at bit.ly/LashXLive