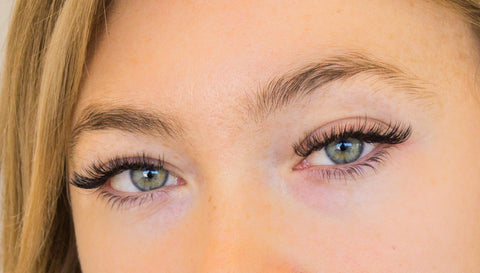 Eyelash services can change your client's entire look. Whether it's lash extensions or a lash lift, you can give your client a complete makeover just by amplifying their eyelashes. How do you know which service would be best for your clients? Here is the differences between lash lifts and eyelash extensions. 
Our team at LAshX tells you all you need to know about lash extensions and lash lifts and will help you choose the look that works best for you. If you're an esthetician, this will provide you with the right information so that you can perfect your services and better advise your clients. 
Lash Lifts 
Lash lifts are a great way of giving eyelashes a boost. The way that this is done is by using a Keratin process to chemically curl the natural hairs, such as our LAshX Pro Lift Kit, making eyelashes appear longer and fuller and more noticeable. 
If you're wanting to personalize the lash lift, this can be easily done depending on how much length, fullness, and boldness your client prefers. By curling the lashes upwards and giving them a subtle tint, a lash lift solution will help you customize the way you want your client's eyelashes to look. Lash lifts are the perfect choice for clients going for a natural yet enhanced look. It is best on clients who have longer, healthier lashes because the effects will be more noticeable on clients with more natural lashes. If the client has very few lashes or the lashes are very thin or very short, this service will not provide as much impact as eyelash extensions would. 
Getting a lash lift is a shorter process that normally only takes up to an hour, lasting for around 8-12 weeks. There is no special care needed for this lash lift after the first 48 hours and all makeup and mascaras can be worn with this look. 
Lash Extensions 
Lash extensions, on the other hand, provide you with a different look. Small lash pieces are individually attached to your natural eyelashes to help them appear fuller and bolder. This is different from a lash lift, where a solution is added to simply lift them up and make them look longer. 
Lash extensions give off a more dramatic, obvious look that will draw attention. They come in all different types of styles and are easy to customize to your preference. LAshX Mink Lashes are high-quality lashes and are offered in many lengths, colors, and volumes so that you can choose the right look for you and have the best eyelash extensions. 
Each lash is applied to your natural lashes with a strong, medical-grade adhesive. Because the lash pieces are applied individually, it can be a tedious process and take up to two hours to complete. They also need to be filled monthly to keep them looking fresh. One benifit of Lash Extensions is that the service provider can truly costomize and design the look, where with a lash lift the result is subject completely to the client's natural lashes. 
Lash extensions require maintenance with fills, you must avoid certian products like oil, glycol and surfactants thus making sure to use lash approved makeup and cleansers is necessary. 
Shop LAshX Pro & Contact Us Today! 
At LAshX.pro, we carry a wide variety of lash lift products, lash extensions, and much more. Order your lash products today by reaching out to us online or calling toll-free at 1 (888) LAshX (527-4952)!