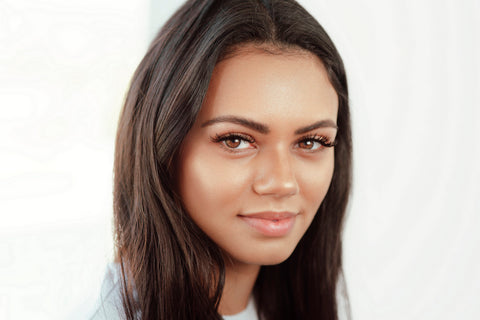 Cleaning your lash extensions is essential in keeping your lashes looking fresh, lasting long, and avoiding infections. Dirt and makeup generate build-up around your lashes, and this can cause lashes to fall out prematurely if ignored. 
Whether you're a lash professional or not, you might be tempted to make a homemade lash cleanser, or to buy a concentrate and dilute it to sell to clients in your own packaging.  We really want to warn clients and our pros against doing this. Not only is it important to use the right kind of lash cleanser when you clean your lash extensions to ensure the extensions last, but using the wrong cleanser can actually lead to health problems. Additionally, whenever you put yourself into the process of mixing, bottling and or labeling a retail product, you are now opening yourself up not only to bacteria, mold or fungi in that product but as a professional you are now subject to possible legal action. Most regular service provider insurance does not cover product manufacturing. Unless your product is being tested through clinical trials at an FDA-approved facility, you could really be opening yourself up to potentially harming clients and being sued. 
Avoid Baby Shampoo
You might have heard here and there that baby shampoo is an effective way to clean your lashes, but this is wrong. In fact, it's actually one of the worst ways to take care of your lash extensions. Baby shampoo is known to have a gentle formula, but it is not meant to put around the eyes. 
Yes, most baby shampoos are marketed as 'tear-free,' but this just means that if you get them in your eyes by accident, you're not at risk for infection. Using it to clean your lash line directly, on the other hand, could cause you some serious harm. 
Baby shampoos can contain some ingredients, such as oils and glycol, which are known to cause allergies and irritation if misused. These ingredients can strip your eyelashes of their natural oils and cause them to fall out. Not ideal when you just spent time and money on having lash extensions put on professionally! 
Selling Without Insurance is Illegal
If you're a professional and you make your own lash cleanser and decide to sell it to clients, you'll need insurance to do so, and insurance fees can be costly. 
To avoid the temptation of selling without insurance and potentially breaking the law, it's best to avoid making your own cleanser at all. You could be signing yourself up for a hefty fine when you do this illegally. 
Labeling Laws are Complicated
Before any product goes on the market, it undergoes a series of tests to ensure that it is safe for people to use. Countless laws are enforced in order to protect people from reactions to any harmful ingredients. 
If you decide to sell your own lash cleanser, having it labeled legally is not an easy thing to do. If any false claims are made about it, this could put you in serious trouble and cost you an arm and a leg. If you're a professional, you could potentially even be put out of business. 
Shop Our LAshX Products Today! 
If you're looking to buy a trusted and approved lash cleanser, you're in the right place.  Shop and learn more today by contacting us online or calling toll-free at 1 (888) LAshX (527-4952).