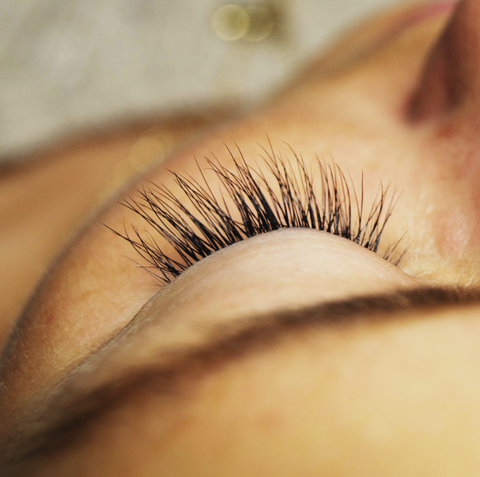 The Classic Half Cat Eye
A Natural Eyelash Extensions Look
Ever have a client who doesn't want to look like she's wearing eyelash extensions but wants to look like she has perfect lashes? Ah, the freedom of waking up perfect!  Everyone loves a classic look. Some people love a cat eye. Here is a way to combine the two.  
The Classic Half Cat Eye look is a half set of classic eyelash extensions blended over the entire lid, skipping every other hair. Lashes get longer toward the outer corners to create a face lifting effect, yet still look very natural. 
Who it's best for:  Clients who want the no-lash lash look with a little kick. 
Celebrity Inspiration: Audrey Hepburn, Marilyn Monroe
Techniques used: Classic lash 
Skill Level: Easy
Supplies To create this natural look you will need:
Eyelash Tint 
2 sets Gel pads 
Tweezer Set: X Tweezer, Hook Tweezers, Straight Tweezers, Curved Tweezers
How To: 
Prep 1) Have your modern Marilyn prep with LAshX Lash Cleanse while this acts as a primer, it is also a great opportunity to make sure guests new to lashes are comfortable with the cleansing process and know they will be going home with the cleanser to wash their lashes at least 3x per week. It is safe for daily use on lashes, actually making lash extensions last longer, but we request that guests clean at a minimum of 3x per week to keep oil and bacteria at bay. 
Prep 2) This is where I would recommend tinting the client's lashes black. The tint will help blend natural lashes with the half set of extensions and give the look of a fuller lash line. Darker bottom lashes will also allow client to go without mascara if they choose. I recommend tint for almost all half sets and for anyone with light lashes. I like ReflectoCils or Intensive for vegetable tints. I use one set of gel pads here to protect the under eye area and throw them out when removing the tint.
Application
Step 1) Apply a fresh pair of gel pads, this time covering lower lashes. 
Step 2) Use X Tweezers to pick up your B .10 14s from the speed tray. I like to use the Hook Tweezers to isolate the natural hairs. Dip the 14mm lash in the LAshX Speed Adhesive forming three tiny droplets. Swipe hair and place directly on top, smoothing out adhesive on sides.  Follow diagram below for placement. 
Step 3) Work your way from outer corners to inner corners of eye. Place an extension on every other hair to ensure the same density across the lash line. You will want to over lap length sections a little to give a smooth flow across the lash line.
Here is the pattern from outside to inside corner all in B.10 
Length Pattern: 11 11 13 11 13 14 11 14 14 14 13 14 13 14 13 13 12 13 12 12 11 12 11 12  11 11 11 10 11 10 11 10 10 10 09
Step 4) Apply LAshX Pro/Line in Icon across the lash line lifting up on the outer third of the eye
Step 5) Mascara on tips of lashes (Optional) 
 Tag us on Instagram #Classichalfcateye #lashxla @lashxla so we can your work! Have a lash look you want to learn? Comment below!