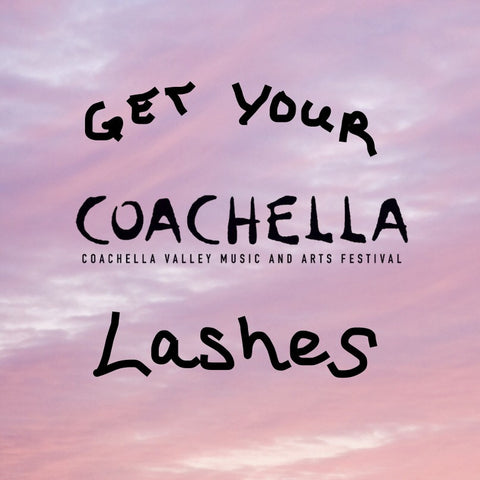 It is Coachella time and lace is out, Coachella Lashes are in!
Lashes are the perfect Coachella accessory. When your makeup is melting off in the desert, your lashes are there for easy festival beauty, so its only natural that with each year festival goers get more and more outrageous with their personal extension style. From color hi-lights to full on rainbow lashes, when it comes to Coachella it is all about being extra-ordinary.
Don't be overwhelmed or confused but these complicated requests instead embrace this as your opportunity to really get creative! At the very least experiment with a little color.
I call this look "Wine Tasting" because it reminds me of all the colors or the wine I would like to be tasting right about now. Colors used: Wine, Brown, Gold, Dark Brown, you could also mix in purple or black.Classic set.

As lash pros that are lucky enough to get extra busy during Coachella, we want a few fresh lash ideas in our back pocket. While some clients know exactly what they want, some may need a little encouragement to try something other than black!
Try Unicorn Lashes:
Not for the squeamish.
Trays Needed: Choose B or C curl .15 or .20 in rainbow (Or a mix) in 12mm, and 13mm, and Blue and Purple Speed Trays in the same curl to  create a dramatic colored Cat Eye.
When using colors remember the more of the same color placed near another of the same color creates a chunky color effect and is more dramatic! So for this one I would place about 10-15 of the same color next to each other and than transition to the next shade. Leave black out as it will tone down the  look we are going for and instead choose wild bright shades. The Speed trays in Blue, Purple or Wine will be used for inner and outer corners because they have more length options to create the CatEye. Choose Green, Yellow, and or Orange from the Rainbow trays to fill the center of the eye.
Americana Lashes
Trays needed: Rainbow Tray in Red or Wine Speed Tray
Silver or Grey Eyebrow tray in i curl
Blue Speed Tray.
This looks is Red, Silver and Blue! Create a staggered spiky look by starting in outer corner of lashes with Blue in 14, 13 12 C Curl. Place about 8-10 Blue mixing those sizes. Next place 10-14 Silver in 7, 8, 9 i curl, Next place the Wine colored lashes 8-10 of them in 13, 12, 1. Repeat the sequence two to three times reducing red and blue lengths used by 1mm each rotation.
All-IN
As modeled by Dani and Bella Thorne in the Video above. Bellas wearing ALL-IN Purple and Dani, Blue Volume. (Don't feel obligated to watch the whole video, you can just check out my lash work!)
This one is WAY less complicated basically you and your guest choose:
a style - Volume or Classic
a color
Curl - J , B, or C
and Shape - Doe, Cat, Fan, Spiky
Then do your thing girl, a full set in the color and options chosen.
Streaking
Kesha is here modeling the streaked lash look in purple and blue.
Streaking is about creating streaks or chunks of one or two colors in a set that is a different color. SO for example Purple full set with streaks of blue or green, or more popular a classic black set with streaks of a subtle blue, purple or wine. This is much more subtle than say the Unicorn look, but more dramatic than the All-IN.
We can't wait to see what combinations you come up with! Don't forget to #LASHX #Coachellalashes so we can feature your work on @LASHXLA IG!