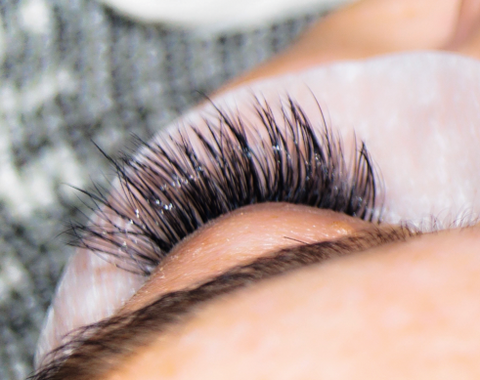 The March look #022017 Spring Fringe is all about Volume with some defining fringe to open the eye up. 
Who it's best for:   This look is great on glamour girls that have medium to full lashes to start with. It will make the eye appear more rounded, to open up more almond shaped eyes.
Celeb Inspiration: JLo, Kim Kardashian
Techniques used: Volume and Classic.  Under lashes (optional)
Skill Level: Advanced
Supplies To Create this full and fluffy look you will need:
How To: 
Prep with LAshX Lash Cleanse
1. Create fringe by placing C .2 16 at 10 O'Clock, 12 O'Clock and 2 O'Clock around the lash line, as pictured.
2. Place a C.2 14 at each 9 O'Clock and 3 O'Clock
3. Place a C .2 12 at each 8:30 O'Clock and 3:30 O'Clock.  See below.
4. Add In fluffy Volume lashes
Use LAshX Volume technique to create 3D and 4D fans to fill in the lash line with fluffy texture. Start with C.07 15 in the center and work your way toward the inner and outer corners getting shorter as you work outward.  
Voila! you recreated this stunning look..
Come back next month to see our newest featured look and how-to.  Let us know if you create the look by posting on Instagram #LASHX #MarchLook
For more tips and tricks join us on our monthly Webinars