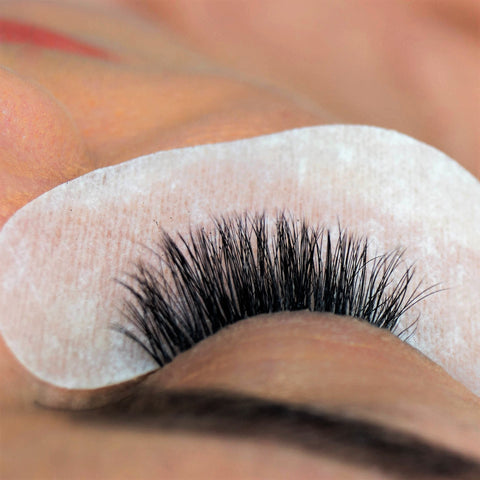 Totally backwards from what I have been doing for the past 12 years. 
I have to admit, I was really scared to try this one. I had heard wispers about the Reverse Cat Eye but it just seemed so strange to me. 
We often get in the groove of making the lashes fan to the outer corners to lift the eye. But what happens when you reverse that look? Amazing things is what happened.
Celebrity Inspiration: J.Lo, Kim Kardashian
Techniques used: Volume Lashes 
Skill Level: Advanced
Supplies to create this dramatic look you will need:
Rose Gold Volume Tweezers
Rose Gold Straight Tweezers
Rose Gold Curved Tweezers
How To: 
Prep 1) Have your guest prep with LAshX Lash Cleanse while this acts as a primer, it is also a great opportunity to make sure guests new to lashes are comfortable with the cleansing process and know they will be going home with the cleanser to wash their lashes at least 3x per week. It is safe for daily use on lashes, actually making lash extensions last longer, but we request that guests clean at a minimum of 3x per week to keep oil and bacteria at bay. 
Application
Step 1) Apply a fresh pair of gel pads, covering lower lashes. 
Step 2) Using volume tweezers make 3-5D fans starting with longest lengths and working outwards to the outer corner. Backwards from the usual cat eye. Remember not to go too long in the inner corner that the lashes actually touch the lid when the eye opens.  Your client may get irritated if they are too long. The longest lengths you can use in the inner corner will depend on how deep the clients eyes are set. and remember to add a few short ones to blend in before the longer ones. See the map for pattern.  
Tips: 
Mascara is never recommended with volume lashes as it will make the fans close up and stick together. We do recommend that clients maintain lashes with the LashX Pro/Line or Treatment because this will help maintain the dramatic look longer and keep the natural lashes healthier.  Volume lashes can be more noticeable when clients start to shed because  they will be losing an entire fan, not just a single extension so maintenance will help ensure they get the most out of the look! 
 To Complete this looks finish with dramatic under lashes.
Try C.2 6-9
 Tag us on Instagram #reversecateye #lashxla @lashxla so we can your work! Have a lash look you want to learn? Comment below!