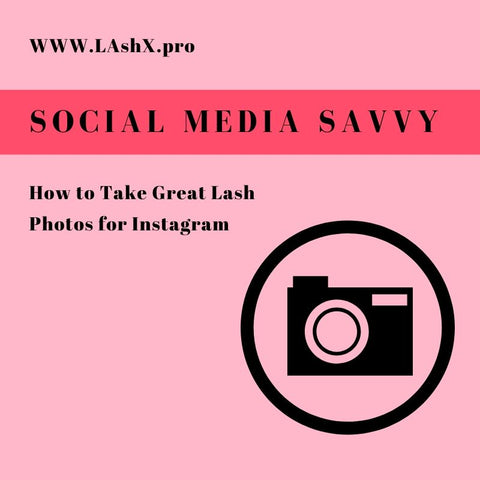 Great social media pictures can absolutely make your business! Unfortunately, the opposite is also true you could be an amazing lash artist, but if your photos are not clear or the photo is distracting it could lose you new clients. 
I am by no means a professional photographer and this is not a how to do photography blog. This is simply how I try and get the best social media pictures of lashes with very basic knowledge and know how.  I highly encourage you to take a photography class if you really really want to get into taking amazing photos but this guide should help you get great shots with no experience necessary because lets face it, social media is a necessary evil that as a business owner or lash artist we all MUST do, but we dont have tons of time when our number one priority is running our business and making clients beautiful. 
What to think about when taking lash photographs for social media. 
Camera 
Having a decent camera and lens will help you capture the detail of the lashes. In a pinch I do use my iphone but really much prefer the real camera. I feel it gets the fine details of the lashes better. You could also splurge on a macro lense and really get that detail. 
Here are some afordable camera options that would take great photos. They Range In price from $250-$900 of course you can go as crazy as you want but I have a Sony DSLR and a seperate flash that are about $500 in price:
Sony Alpha a6000 Mirrorless Digital Camera 24.3MP SLR Camera with 3.0-Inch LCD (Black) w/16-50mm Power Zoom Lens
Lighting 
Natural light is my number one choice. Next would be a ring light. I like this one: https://amzn.to/2O3qgdd from amazon. They are also light weight and easy to travel with, so great if you go on location. One thing to note, portable lights can tip over because of the light weight of the base so make sure to secure the base if your using it in a place that it may get bumped.  Lastly if you have neither sun or the ring light you can try shutting off the over head light and just use your esthetician lamp, but  this lighting will be harsher and need more editing. I also like to make sure my light isnt reflecting as a ring in the model/clients eye. When using a flash on my camera I make sure to flash against a wall or ceiling so that the light actually reflects back at the model and isnt direct.  
Angles -
I find the best angles are from behind the client when I want to show the actuall lash work and straight on and slightly tilted up when wanting to show the look of the extensions with an open eye.  You can also experiment with profiles to show off the curve of the lashes.  Here are some examples of angels I like to use:
For before and afters try and match cropping and lighting to make the results easier to see. and less distracting. 
Before and after with full eyes. Again try to match crops and lighting so that its easy to see the before and after results.  I also like a slight angle on the face rather than straight on so there is no "Mug Shot" look. 
This is a great example of a profile shot showing the curl of the lashes as well as the detail of the lash work. 
For overhead angles I like to crop in on one eye so the details are really clear. A viewer can see by this photo that the lashes are not thick or clumpy or put on in a dangerous manner. 
I also tyically crop in on one eye when showing the lashes from the front so that detail is clear and as large as possible.  I am slightly angled in my shot here to show the lashes from root to tip. 
Editing 
Editing is essential but should be used sparingly.  When you over touch up a photo it tends to look blurry and or fake and viewers may assume that the lashes are also photoshopped.  tyipcally I will adjust my light balance, in Light room. I usually brighten most photos and add a little more contrast to make the black of the lash extensions pop more.  I also will smooth skin or hide any blemishes that are very distracting.  I may also whiten the eyes a bit to make the lashes really pop.  That is all I do as far as editing in light room. Then when Melissa gets the photos on her phone she does things like change backgrounds to go with our grid or crop more etc. She may again play with the lgiht balance and contrast. 
 We also use an app called Planoly to organize our grid!
I hope this guide is helpful to let you guys get the best social media and Instagram photos possible with the least amount of effort and time. If you have suggestions or comments please add a comment below and share with your fellow artists!