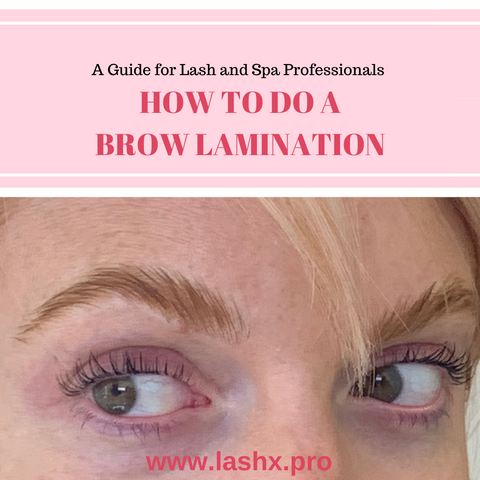 "Brow Lamination is the process of brow lifting or perming the eyebrow hairs into position to create a lifted, fuller, more bold eyebrow. Results typically last about three months and the process takes about 30 minutes. You can also add on a tint, wax or Eyebrow Extension service to create perfect brows! We also reccomend retailing our LAshX ProLine brow serum to your client because the fuller and more natural brow hairs your client has the better the service will show." 

CLICK HERE TO PURCHASE A BROW LAMMY KIT 
Brow Lamination Procedure:
Patch test skin and make sure the client is not on any medications that would
cause skin sensitivity.

1. Brush eyebrows up and out into desired position. Trim and wax as necessary.
(note client photograph is of model recieving lash lift and brow lamination at the same time) 
2. Use a mascara wand to brush Lifting Lotion #1 through brow into desired position.
Use a full pump to saturate hairs. Cover brows with cling wrap to keep brows in
position. Leave for 5-8 minutes depending on thickness of hair.
3. Remove Lift Lotion #1 with cotton rounds in and up and out pattern.
4. Apply Setting Lotion #2 with the mascara wand in an up and out pattern and
recover with plastic wrap. Leave for same amount of time as step #1
5. Remove Setting Lotion with cotton rounds in and up and out pattern.

5b. Tint lashes as needed. Remove with dry cotton (no water).

6. Cover brows with Nourishing Lotion for 5 minutes and wipe dry.
Notice:
1. This product has been molecule processed, which can be preserved within air tight
pump bottles, shelf life for this product is 12 months.
2. Do not mix different lotions and always use a separate micro brush/cotton bud for
each lotion
3. If the product accidentally gets into your eyes, use artificial tears or distilled water to
wash/rinse, in rare cases of allergic reactions, consult with a medical professional
4. No water or steam around or near your eyes or brows for 24 hours post treatment
5. Please consult the region distributor or authorized agent for any questions on this
product or Call LAshX 1-888-lashx-la
6. Keep the LAshX Lash Lift Kit at room temperature, should never exceed 75 degrees
7. This product is designed for trained and experienced estheticians and
cosmetologists and it is for professional use only
We wholesale a Brow Lamination Kit as well as our ProLift Kit. The brow Lamination will complete 15-20 brow lamination services.  Where the ProLift Kit will do a combination of Lash Lifts and Brow Laminations with the one kit. 15-30 Services total depending on the combinatin of services performed.