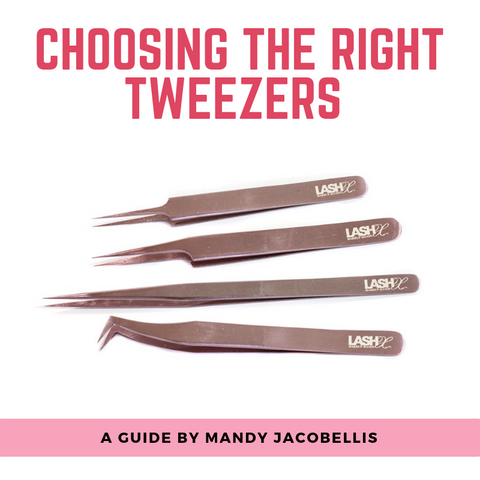 Having the right tools is crucial for doing great work. The wrong tweezers can not only cost you in delays in your work but can cause you to have short and long term pain. 
What I look for in great tweezers:
1. That they won't fall apart in the barbicide. Some tweezers have a coating on them that falls apart in the disinfectant and I have actually had this coating chipping off over someones eye. Horrifying! Use metal or electroplated options that will stand the test of time and wont chip with use. 
2. I like them light as to not strain my hands but I don't like a flimsy feelign tweezer. Sometimes when the tweezers are too thin or light I feel like I have to squeeze really hard to hold the extension hairs causing me pain in my neck shoulder hand and wrist. Did you know lash tweezers come in different lengths too! So you can find the size best for your hands! I like them long because it allows me to have less tention and not bend my wrists! 
3. A solid tip that can stand up to scraping.  I don't like the idea of using acetone to clean adhesive off the tweezers so having a solid pair that I can scrape repeatedly without it bending is imperative.  Also tweezers that can withstand a few drops so we arent throwing money out the window. 
4. A clean flat gripping surface. Volume tweezers should be smooth and tight. The grip has to be just right so that not to strain the hand. I love the "boot tyle" volume tweezers that have a nice long flat gripping surface for my volume fans. This allows me to go really fast when lashing and not have to worry about one of the extensions coming out of formation. 
5. Xtweezers are my Biatch! i.e. protect your wrists. I LOVE Xtweezers. I train all my students to start with these. If you are trying to switch to them it will confuse you because they are opposite of regular tweezers. You squeeze to release and let go to hold the lash. If you can use these proficiently they allow you to manipulate your hair without bending your wrists which will really help prevent pain down the line! I am able to flip eyebrow extensions or under lashes over with ease and no tension. Check out the video above to see how these babies work. 
These are awesome because they will allow you to flip extensions in your hand for brow extensions and under lashes without tweaking your wrist. Most importantly you can prevent pain and tension because you do not need to keep a static hold on the tweezers.  If you are like me and working all daylong every day then giving your hands a break is the best. Start with these otherwise give yourself about three of four full sets to fully get them down. It will be SO worth it! 
Hopefully this guide will help you find the tweezers that are best for your work as well as prevent pain for you as business grows! Please let us know your thoughts below. What do you look for in killer tweezers?