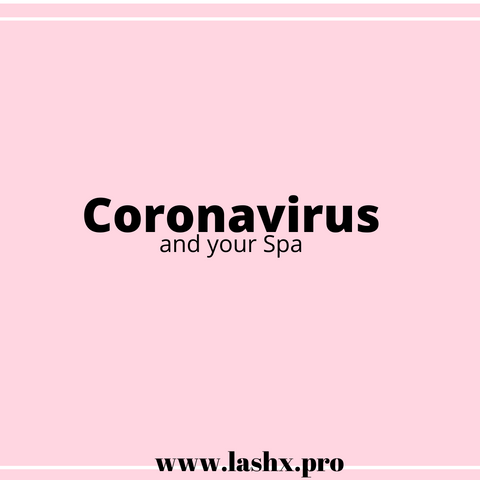 Updated 4/14/20  please check back regularly for updated links and resources
Salon, spa owners and professionals,  
When I first wrote this article we were still open for business. Now as we are all in mandatory closures I wanted to give you some new resources to help your businesses survive this time period. If you are short on cash flow because you can't be open these tips should help you survive. 
Cancel all non-essential payments.

ALL! If you do not need it to eat, try and cancel it. If you have high interest credit cards you should still pay these but in many cases you can call and ask for deferment. Contact your land lords and ask what the deferment plan will be but in the US you do not need to pay rent - you can not be evicted. You still want to work something out with your landlord so that you stay on good terms and know how and what your repayment plan will have to be. Many car companies and services are also offering a deferred or free month when asked so call everyone. Remember to call services like laundry and water delivery etc.
Loans / Funding resources
The best resource I have found to navigate all of the grants and funding options has been Hello Alice! Check back here regularly
 Apply on www.sba.gov (If you have already applied for the disaster loan and it was longer than a week ago you need to reapply to be eligible for the $10000 forgivable loan.  There are actually two loans that you can get from this new quicker online application. A $10000 forgivable loan and then a low interest longer term loan from the sba. 
https://www.uschamber.com/coronavirus
Check with your city and states for other local grants and loans on their websites. Every city has different options. 
The Professional Beauty Association is offering $500 grants to memebers and membership is free right now https://www.probeauty.org/pba-charities/covid-19-relief-fund
Payroll Protection Plan - This is a loan that you will apply for online with your bank and should fund fast. It should become available on Friday to apply. This one will be forgiven if the funds are used for keeping employees and payments that included rent and utilities. Speak with your banker to get details. Everyone should apply for this even if you just work for yourself.  
Unemployment 
The new CARES Act allows for independent contractors and self-employed people to apply for unemployment. It also raises unemployment maximum benefits from $450 to $1050 per week and there will be no week wait to receive benefits. This has not appeared to be available on the EDD site yet for California - check Friday
Online Courses

Keep busy by taking classes that will allow you to increase income when you do open up. Here is a link to some online classes:
ORIGINAL POST
There is a lot of confusion about Coronavirus, work and what to do if there are mandatory shutdowns or if you should close your salon doors amidst the chaos.  I mean the stores look like a war zone, there is no water or toilet paper to be had and people are stocking up on random beauty products. Should you panic? And what about school closures and child care. There are sure to be some stresses in the coming weeks, until the world has a better handle on this virus, people are looking for more certainty.  It may feel overwhelming as a business owner, or a self employed service provider, but we are all in this together and this will pass! 
(The Trader Joes by me)
Our first priority is the health, wellbeing of our clients, staff and families.  Next we need to strategize how to navigate our businesses through this time, that probably will result in a loss of income, as events get canceled and trips postponed. 
Here is what I am doing right now for my business, and it may change daily:
Talk to you employees so they know what is going on.  Let them know what you are doing to beef up sanitation practices, like sanitizing door knobs, putting away foods (If you normally have food for guests) Wiping phones, surfaces and keyboards.  Wearing masks and or gloves when appropriate. No hugging guests. Assure them to stay home if not well and that customers should as well. 

A We are already practicing state board standards for sanitation and disinfections but try and add all of the extra hygiene and sanitation practices you never thought of. Extra cleanings etc. Wear gloves and masks and refuse any clients with any symptoms. 

Address clients and let them know about the extra precautions you are taking and that you have waived any cancellation fees if they feel ill or uncomfortable coming for a service. 
Make sure you have adequate necessary supplies, but don't make any unnecessary large purchases. If there is a decrease in business you want to make sure you have  enough cash flow for emergency expenses, payroll, rent and debt that has to be paid. 

Run a promotion on service packages or products to get some extra cash flow in while there still are clients coming in, in case there is a forced closure. Think about things you can sell online, or maybe doing in home services if that makes sense. Clients for some reason are stocking up on beauty products so offer a promotion to the clients that are coming in. 

Apply for an Sba loan, when they become available to help if there is a slowdown of income and you need help. 

https://www.sba.gov/

Each state has to be declared a disaster relief state.   Now active 

Stay on top of the news, but don't become overly emotional or panic. Remember news stations like to get high ratings.  I actually like to check twitter for a rounded news update that is not as sensationalized. Remember social media can take things to another level so use common sense when watching or reading these things. Also I am limiting my kids screen time so as to not cause anxiety for them. You want to make good strategic decisions to protect yourselves, clients and employees but act with reason and caution. I find its always better to have a plan A, B and C and stick to it then impulsively making emotional decisions.  For example if x happens then I will do plan A, and so on. This goes for the stock market too! 

Stay flexible, in the event that you can not take clients or clients cancel try to utilize the time productively so that you can hit the ground running when it does get busy again.  Here are some ideas you can do to stay productive if you need to halt regular client services:
You can have staff do at home trainings or online trainings
LEARN HOW TO DO A BROW LAMINATION
LEARN HOW TO DO EYEBROW EXTENSIONS
Organize and clean the salon 
Order things you haven't gotten around to that you need
Work on marketing ahead of time so when its busy you can pre schedule posts or newsletters
Get on top of paperwork, planning, emails, taxes etc so when you do get busy again you have time to take more clients. 
Do some goal setting and intention work! 
I hope this is helpful. comment below on how you are handling the coronavirus and your business.  We would love to hear what you are doing! Thanks for being a part of the LAshX family and If we can help you in any way please let us know! 
If you have business insurance, check to see if you are covered for loss of income.