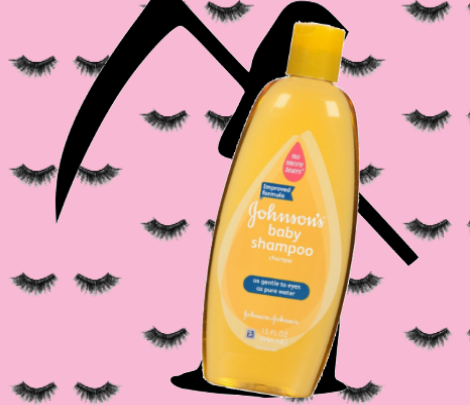 Top Ten Reason Not To use Baby Shampoo to Clean your eyelash extensions
As an avid eyelash extension wearer,  a seasoned lash artist and an ingredient investigator, I wanted to share why using baby shampoo as an eyelash extension cleanser will not only lower your lash extension retention, it can also be unhealthy and lead to more allergens in lash extension wearers. So, here are my top ten reasons for not using baby shampoo or recommending it for lash extension clients.
1. Your Lashes won't last as long  
We all know oils and glycol break down the lash extension bond but did you know bacteria can also cause lash loss - thus making lashes fall out sooner.  Healthy hydrated lashes are going to be more flexible and last longer. So, avoiding dehydrating detergents and soaps, such as baby shampoo, only makes sense. Using a proper lash cleanser can actually help extensions last two weeks longer for your clients. This will save them money and also make sure they come back to you. 
It's Not "Gentle as water"
Which brings us to #2
2. Not professional, loss of business.
 I feel professionals should recommend professional Lash Cleansers. Not only will you seem more knowledgeable and professional, your clients lash extensions will last longer and natural lashes will be healthier. This means the chances of that client returning to you for years and years of beautiful lash extensions is much higher. Plus you will avoid possible legal issues with suggesting or selling a DIY type product that is not safe nor tested for use on the eyes.
VIEW HOW TO IMPROVE YOUR BUSINESS WITH A PROPER CLEANSER
So what about keeping our lashes clean?
3 .Studies show Baby Shampoo is not effective at killing bacteria
One of the main reasons for washing our lashes is to prevent bacteria build up. We want to keep lashes healthy and prevent infections such as blepharitis and styes.
The ingredient that was in baby shampoo to kill bacteria was quaternium-15 which produced formaldehyde in order to kill bacteria.  Quanernium -15 was this  removed from the product because of popular pressure in the United States in 2015.  The Mites or Demodex colonies that most commonly cause blepharitis actually thrive on dry skin cells so the drying effect of this wash may actually promote these bacteria and increase chances of infection. 
4. Not Designed for the eyes. Not Ophthalmologist Tested. 
Did you know that being "Tear Free" does not actually mean it is safe for the eyes. This marketing claim just means that there are numbing agents in the shampoo to prevent the feeling of irritation. 
Not only is baby shampoo not specifically tested for use in and on the eye it contains many ingredients that are eye irritants and allergen causing. Fragrance or Parfum is just one of these. Some research suggests baby shampoo can interact with the eyelid's natural oil expression, turning it into a pro-inflammatory soap-like expression that is irritating to the eye and eyelid, a process called saponification.
I feel its irresponsible and unprofessional to reccomend a product for a client that is not properly tested or to be used different from any labeling suggests without research or testing.
5. Contains multiple forms of Glycol both unhealthy and cause lash extension loss. 
PEGs Such as PEG-80 sorbitan laurate and PEG-150 distearate are forms of glycol, which is known to break down the integrity of the eyelash extension adhesive. They cause your lashes to get dehydrated and extensions to fall off quicker. The bigger issue about these ingredients to me, however, are the potential health risks. 
According to my research PEG-80 sorbitan laurate may contain harmful impurities or form toxic breakdown products linked to cancer or other significant health problems, gastrointestinal or liver toxicity hazards.
According to a study published in the International Journal of Toxicology, PEG 150 Distearate can contain harmful impurities, including: Ethylene Oxide, known to increase the incidences of uterine and breast cancers and of leukemia and brain cancer, according to experimental results reported by the National Toxicology Program; 1,4-dioxane, a known carcinogen; PAHs, known to increase the risk of breast cancer (Source).
Products and formulas containing PEGs should not be used on broken or irritated skin. Although PEGs are considered safe for use topically on healthy skin, studies showed that patients suffering from severe burns were treated with PEG-based cream resulted in kidney toxicity.  (CosmeticsInfo.org).
 6. It Contains Fragrance
Fragrance, or Parfum as it is sometimes listed, is rated highly toxic by the EWG.Org, one of my favorite resources to investigate product ingredients.  
About FRAGRANCE: The word "fragrance" or "parfum" on the product label represents an undisclosed mixture of various scent chemicals and ingredients used as fragrance dispersants such as diethyl phthalate. Fragrance mixes have been associated with allergies, dermatitis, respiratory distress and potential effects on the reproductive system -EWG.ORG
 7. It is irritating to the eyes and eyelid  
Many of the ingredients on baby shampoo are actually very irritating even though "Tear Free" Marketing may be misleading.  The tear free aspect is a numbing agent added to the shampoo to prevent the feeling of irritation. The main ingredient after water in most popular brands is About COCAMIDOPROPYL BETAINE: Cocamidopropyl betaine is a surfactant; it has been associated with irritation and allergic contact dermatitis, reactions that could be due to the ingredient itself or to impurities present in it, such as 3-dimethylaminopropylamine.
Cocamidopropyl Betaine
May contain harmful impurities or form toxic breakdown products, itching, burning and blistering of skin. Synthesized from coconuts, this chemical is found in body products and may be labeled natural or organic.
8. It contains toxic preservatives
Just a few of the preservatives in baby shampoos are: Sodium Benzoate, a preservative with low concerns with organ toxicity. 
Ethylhexylglycerin, . The health risks are low but it is listed as a high irritant to eyes, skin and lungs
Phenoxyethanol, a preservative that shows limited evidence of nervous toxicity according to the National Library of Medicine.. It is classified as toxic or harmful  for use around the mouth area and lips.
If something is toxic on lips, should we put it on our eyes? 
 9. It contains surfactants
Surfactants can be found in more than 90 percent of personal care and cleaning products (think foaming products). These are known to be skin, lung, and eye irritants. A major concern about surfactants is their potential to interact and combine with other chemicals to form nitrosamines, a carcinogen. These combinations can lead to a host of other issues like kidney and respiratory damage. They can be found in shampoo, body wash/cleanser, mascara and acne treatment.
Last but not least...
10. Baby Shampoo has NO added lash benefits
By using a proper lash wash like the LAshX Lash cleanser your client is not only going to keep their lashes on longer but they are getting lash health boosting ingredients specifically formulated for the eye area and lashes like Biotin, Panthenol, Cucumber extract, Silk extract. Aloe is a natural antibacterial cleanser and there are no added Surfactants or irritants so sensitive clients will rejoice.
 Without going on and on it is also noteworthy that If the lash wearer is already experiencing sensitivities, these shampoo ingredients can further sensitize the skin causing allergic reactions to be worse.
For the super students out there: 
This is the ingredient list of the updated most common baby shampoo after the change in 2015 to remove the formaldehyde.
Water, Cocamidopropyl Betaine PEG-80 Sorbitan Laurate,   Sodium Trideceth Sulfate, PEG-150 Distearate, Glycerin, Polyquaternium-10, Tetrasodium EDTA, Sodium Chloride, Citric Acid, Sodium Hydroxide, Sodium Benzoate, Ethylhexylglycerin, Phenoxyethanol, Parfum
So by now you are wondering why is this being recommended? I was wondering too!
When I started doing lash extensions, back in 2003, the knowledge was very limited about lash extensions and health. The service itself was new to the United States. It quickly became very clear to me, from seeing so many lash clients, that there were two problems regarding cleaning the eyelash extensions. The first, if the client cleaned too often, with the eye products on the market, then lashes would not last. The second problem was that those that did not clean their lashes at all would suffer health and bacteria issues, and the lashes would still fall off.
Our eyelashes are susceptible to get mites, dead cell build up and bacteria. After all, the purpose of our lashes are to keep these things out of our eyes. Not being sanitary can lead to Blepharitis, styes and a whole host of eye problems. Imagine not washing your face or hair for months at a time!  Clients who did wash their lashes with standard eye makeup removers and cleansers would lose their lashes because of ingredients like glycol and oils.
So for those that follow my blog, know my story, that this frustration is why I developed the LAshX Lash cleanser. I mean this article to educate lash artists and clients on ingredients and lash health. It may sound that I am just trying to promote my own cleanser, but I feel proud to mention we are the only lash cleanser, to this day, that is free of oil, glycol, parebans, surfactants and sufficants. I feel not mentioning that leaves you all feeling like there is no light at the end of the tunnel. When in fact with my cleanser your clients can see 6-8 week hold time between fills. SEE REAL RETENTION  
WATCH OUR VIDEO HOW TO CLEAN YOUR LASHES PROPERLY
Bottom line, baby shampoo like these have no place on my babies' bottoms or your eyes!
Wheww, that was a lot of scientific information, time for a glass of wine :)