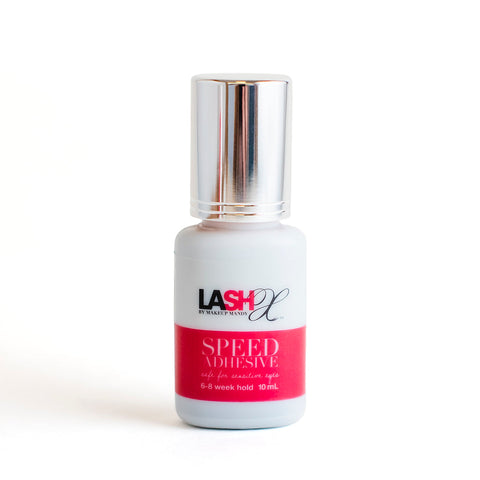 Not only is using the best lash adhesive important, but how you use it will dramatically affect your results. Everything from how much lash adhesive you use to how you store it matters. We all know lash retention is the key to having a successful lash business, so it's imperative that we do everything we can to get the longest retention possible. Read about the best types of lash extensions here.  
Here are some techniques from our team at LAshX to help you use your lash adhesive the right way in order to get the longest lash retention possible. 
Use Small Amounts
It's always a good idea to start with a small amount of adhesive when you go to apply your lash extensions. Start by pouring a little drop on a flat surface. If the drop loses its raised dome, drop a new fresh drop. This will ensure that your entire lash is getting adhesive on it when you load the lash.  
Activate the Adhesive
Shimmy your classic lash back and forth in your adhesive to activate it. When doing volume, rotate your hand so only the base of the fan goes straight up and down into the adhesive to activate. 
Avoid Cotton
Lash adhesive contains a chemical called cyanoacrylate. Cyanoacrylate does not mix well with cotton as it causes it to react rapidly and emits exothermic heat, which can be very dangerous when coming in contact with skin. To avoid this, stay away from cotton applicators and wipes such as cotton swabs, balls, or tissues. 
Store Properly
Proper storage is a very important factor in keeping your lash adhesive fresh. Store your adhesive upright, and in a cool, dark cupboard. You do not want it to freeze or get heat above 85 oF. Do not expose your bottle to direct sunlight. You may store your adhesive in the refrigerator if you are not going to use it for an extended period of time, but make sure you bring it to room temperature for 2 hours before working with it. The cooler the adhesive, the thicker it is going to seem. Unopened bottles of Lashx Speed Adhesive last 12 months from manufacturing and 3 months once they have been opened. 
Contact Us Today!
At LAshX, we have created a system of lash extension products formulated to outlast the competition. Our simple three step method proved as 6-8 week retention between fills and improves the natural lash health. Learn more, or Order your lash products today by reaching out to us online or calling toll-free at 1 (888) LAshX (527- 4952)!