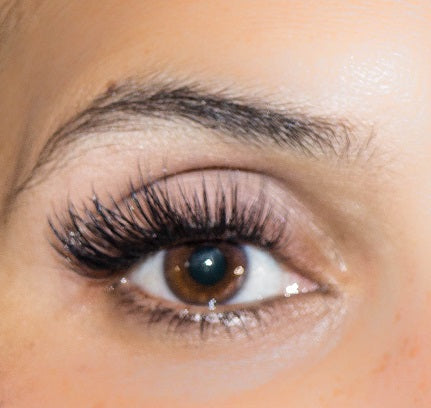 Star Lashes - One of my favorite extension looks combines fat fluffy volume fans with tight dark skinny volume fans to create a spiky, eye opening effect. 
Celebrity Inspiration: 
Kim Kardshian - mixed with Bambi 
Techniques used: Volume Lash 

Skill Level: Advanced 
Supplies To create this natural look you will need: (Click the item to add to your shopping cart or learn more) 

LAshX Lash Cleanse

2 sets Gel pads

Spiked Lashes: C.07 16-13
Volume Fill Lashes: C.07 8-16
Tweezers: Volume Tweezers, Straight Tweezers, Hook Tweezers 

LAshX Speed Adhesive

SHOP THE CATALOG HERE 

How To: 
Prep 1) As always have your model cleanse her lashes with the LAshX Lash Cleanse to rid the lashes of any built up oils, makeup and bacteria. 

Prep 2) Quickly dry the lashes with a Mini Fan or Lint Free Cloth 
Lashes will stick better to a clean dry lash. 

Application

Step 1) Apply a fresh pair of gel pads, this time covering lower lashes.
Step 2) Create the Spikey Lashes. These are the framework of your shape. To create these build 3 hair fans with a very tiny amount of space between the hairs. Make sure you are consistent. I try and have only 1 mm of space from tip to tip at the top of the fan. Work from inner corner to outer corner in this pattern:
C.07 10
C.07 12
C.07 14
C.07 14
C.07 14
C. 07 15 
C. 07 15
C .07 16
C.07 16 
Leave about a 11 or 12 mm of space between each spike. 
Step 3) 
Use shorter fans on in a cat eye shape on all available hairs. Starting from the inner corner of the eye fill in all the available lashes with fans of 3-5 hairs each with 3mm between the tip of each hair. These fatter fans will look lighter and fluffier. Follow the lash map for sizes going from shortest to longest but always a couple mms shorter than the spikes that were attached in step 2. 
Start with C. 07 8 
C.07 10
C.07 11
C.07 12
C.07 13
C.07 14
C.07 15 


Optional - For more drastic dimensions substitute C.10 lashes for the spikey fans in Step 2, instead of the .07s this will give a darker more dramatic look and contrast.  Make sure client's natural lash can support the weight of course.  
Have questions, comments or look ideas? Please let us know your feed back. #lashx #starlashes on IG if you try this look yourself! We would love to see your results