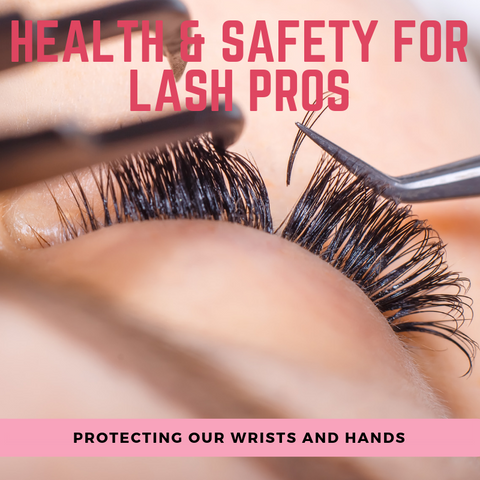 How To Prevent Hand And Wrist Pain - For The Lash Extension Artist 
READ OUR OTHER BLOGS ON KEEPING OURSELVES SAFE HERE 
Disclaimer: I am not a doctor!  I have, however, been working as a lash artist for the past 12 years. It is not unusual for me to see 10 clients in a day, sometimes 6 days a week. If you work as much as I do, you are familiar with the pains that can occur from sitting in a stool all day and working with repetitive movements for hours on end. These are the techniques I utilize and teach to my students to prevent and help with wrist and hand pain. 
My pain really became worse around the time when I was pregnant and had my babies. hormonal changes can effect us in weird ways. Luckily I have a client who just happens to be a well recognized Orthopedic Surgeon and Specialist. So with her suggestions, and not having the luxury of being able to stop lashing, I have learned to cope, heal and prevent. 
Here are a few tips and tricks I have learned over the years to save my wrists, and hands.
If you are already experiencing pain:
You need to heal your nerve endings. The only way for the nerves to heal is to keep the wrists straight so the nerve endings can reconnect.  Obviously, while we are working this is impossible. So at night its important to keep your wrist immobilized so it has time to heal. You can purchase wrist wraps like these from Amazon or the local pharmacy. The wraps keep your wrists straight at night so they have time to heal. 
Sleep like this nightly until the pain stops. If you are able to wear the wraps at other times too, the more you wear them the better. I felt they were really hard to wear while working but when the pain was really really bad I tried. 
Heat Heals.
To sooth my wrists and hands before and during work I did a lot of hot paraffin treatments.  The warmth was really soothing.  I would dip my hands and wrists in the paraffin treatment and let it sit as long as possible, while it was still warm. Then one of my  amazing coworkers would massage me. If you work alone and you can do one wrists at a time.  
Static tension is bad. 
Stop all static tension. My pain increased when I started doing volume lashes. I have always used X Tweezers like these,
to do classic lashes, so never had any issues. The great thing about X tweezers is that you don't need to twist your wrists in weird directions, instead, you can roll the tweezers in your finger tips to preform under lashes or brow extensions and there is no static tension during application in general because the tweezers hold your lash without squeezing. You squeeze only to release the lash.  I highly recommend utilizing these for all pick up and placement that you can. 
During this healing time I had to teach myself to do Volume lashes with the X Tweezers, which is a little harder to control. If you are suffering and need to do this here are my steps:
- Use the Xtweezers to grab the lashes and pull 3-5 toward you. 
- Use the tips to fan the lashes to the side
- Pick up lashes closer to the base than you normally would with Volume tweezers. Because they are needle nose you have less surface area to hold the lash fan so its important you grab closer to the base where your fan is skinny or you will lose your fan.
- Tap in adhesive and apply.
- Squeeze to release.   
Preventing pain:
 Now that my pain is gone I have gone back to using the Volume tweezers because they are more efficient for Volume Lashes. I still use X Tweezers for everything else.  
Make sure your posture is good.  
You want to have a straight back while lashing so that your arms aren't stretching up and you aren't too high that you are leaning over.  A general rule of thumb is your client's head should be at chest level.  
I like a wide bed or massage table so that I can rest my weight on the table, either on my elbows or forearms.  This makes me very stable while lashing and helps me keep my arms straight and in the correct positions.  Your movement should be in your finger tips and your entire arm, not in the wrists.  
By leaning on the table you will preform better work, avoid leaning on clients face and have more control.  No one likes to have pressure on their nose of forehead. So with your weight on your arms you can just use a pinky to act as a pivot point or stabilizer on the brow bone and not press on the client at all. 
Choose the right tools.
It is crucial that you choose high quality tweezers that are not too loose nor too tight.  Your hands should not be doing a lot of work. Tweezers come in many lengths so make sure you choose a length that is right for your hand size.  I have bigger hands so prefer longer tweezers. This keeps me from having to choke up on the tweezer and squeeze too hard. Just as important, the tweezers needs the right amount of tension. 
If your hands are smaller you may prefer a shorter tool. Its a good idea to test many tweezers and also have options so when you are working you can change it up.  Even a slight change in hand positioning can help alleviate and prevent cramping. 
I recommend testing lots of tools out at a trade show if you can or ordering a few different styles to see what you like. 
Here are my favorites:
I love these volume tweezers for maximum Control in fan creation and pick up.
Hook tweezers are awesome for isolation because they allow you to keep your wrist straight rather than bent down while isolating hairs. The fine tips make isolation fast and precise with less work.  
Straight and Curved Tweezers above allow for easy banana peeling and separating.  I love these tweezers when I need to get into the bases of the lashes and remove an old one or separate lashes that may be touching. the wide flat tips give them a great grip and maximum control over the hairs to prevent accidental pulling. 
Rose Gold Tweezer Collection
 Bottom line, you want a selection of tools so that you have options for different tasks. Make sure to have duplicates of your favorites, just in case one gets dropped and bent. 
I hope these quick tips and tricks will help you have years of pain free lashing! Please comment below if you have any other tips or tricks to share! 
CLICK HERE TO SHOP TOOLS