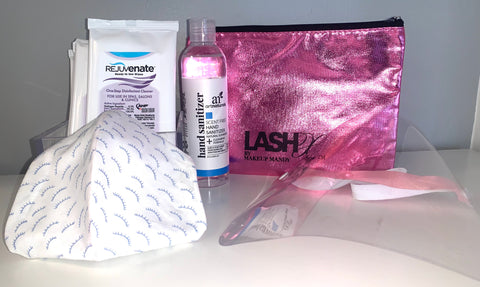 As we all start to reopen our salons and lash bars during this unprecedented time our clients, employees and own safety are of the biggest concern.
Here is what we are doing to keep everyone safe:
1. Implementing new policies for guests
Here is a copy of the new policies we are implementing at our salon for guests
For the safety of our staff and clients we will be adopting some new temporary protocols which will be mandatory to follow.                      

Clients and employees must be wearing masks at all times.

Extra time between appointments will be scheduled for cleaning and to ensure one client is in the salon at a time.

Please no kids, pets or extra guests brought to appointments.
Please do not bring outside food or drinks in.

We will not be offering snacks or refreshments at this time aside from water, tea, and coffee.

Please do not come in if you have been sick or exposed to anyone sick in the last 14 days. You will not be charged for any last minute cancellations, due to illness, to ensure you come in your healthiest self.

There is a sanitizer stations at every elevator entrance in the building but  feel free to take the stairs if you prefer.

Please put a card or membership package on file so we can do secure, touchless checkouts when possible, or you can pay ahead online when you schedule through our app.     

Thank you so much for your cooperation and understanding. We can't wait to see you soon!!
2. New employee Protocols 
New employee protocols include a zero tolerance policy of coming in when feeling ill and going home if not feeling well once at work.
We removed all of the cloth pillows and chairs from our waiting area.
Removal of magazines 
Closed up all tester items and removed refreshments. 
Disinfecting all work surfaces, phones, touch points through out the day. 
We are scheduling an extra 30 minutes between appointments to carefully disinfect all surfaces and the table between each client and to prevent multiple clients in the waiting room at once. 
We are encouraging touch-less check out and have separate clean and used pen containers. 
We have hand sanitizers in all the common areas around the salon including upon entry, at check out, near the sink and treatment areas and in the waiting area. 
We are selling disinfecting wipes to clients at the front desk. 
We have limited our refreshments to water and put away all of our refreshment area items. 
We are all respecting the 6 foot distancing except during the actual treatment. 
2. Employee and Artist PPE
 As a service provider, I wear new gloves for each client. I am wearing a fresh cotton mask for each client, as well. Mostly because I feel my mask gets damp after a while and is uncomfortable.
I also wear a clear plastic visor on top while I am up-close to clients.  
I have the client wear a mask, except if working around the mask area or during a facial. You could also look into working behind your lamp or a sneeze guard.  
We would love to hear what you are doing to stay safe! Share your ideas below!
Helpful resources: