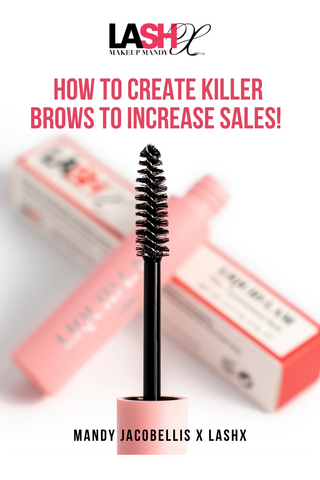 How to use the NEW LAshX Brow Lam to do Killer Brows
HI loves! Here is the tutorial for our LAshX Liquid Lam brow gel. It HOLDS so make sure you always remove it with cleanser. It should be the last step in your makeup routine because once it dries down you cant add makeup or brush the brows. Water resistant brows that wow! 
Use these techniques after your brow laminations or eyelash extensions to increase revenue from product sales. 
LAshX Liquid Lam  retails for $32
Not a lash pro? no problem - Shop on our consumer site www.lashx.shop :)
Transcript: Hey lash pros. We are here today to show you how to use LAshX's newest product Liquid Lam brow lamination gel. Its a cosmetic eyebrow lamination gel that just launched and you DO NOT need to be a pro to use it. Here Celebrity Makeup Artist, Mandy Jacobellis show you how to use this product on a client or on yourself.
1. Add any color to the brow, you're going to do that first. You could use a pencil, or you could use a brow powder. Today, Mandy uses a Kevin Accoin precision brow in warm blonde (get it at www.makeupmandy.com). Create the impression of hair with light upward strokes through the eye brow, to create the shape. Now remember, you're not coloring in the brow, you want to do little hair like strokes, so you get that natural look. So you're going to start towards the nose, and start going up from the base of the brow straight up. As you work, toward the arch of the brow, start angling your hands towards the temple and then back down, creating shadow. You just want to create a shadow behind the hair to make it look fuller.
2. So you're going to go ahead and place your color first, then you're going to take your LAshX Liquid Lam and this product this is like a brow gel, except that it's going to dry down solid. So once you place it, the hairs are going to stay. You're not going to be able to re-manipulate them after application. This is why it is the final brow step. You want to make sure you put them in position and let them dry in that correct position. The brows will then be sealed, waterproof, and last you all day. Take the Liquid Lam, if you're doing this on a client in your salon, you're going to take a clean spoolie and use that to apply the product. Bend the brush if you prefer.
To Apply: lift eyebrow hairs up, starting towards the nose, up. As you get towards the arch of the brow, angling your hand out towards the temple. If you want you can then kind of just roll those hairs flat so you get a more defined look. If the client has really long brows and they look a little too wild, what you could do at the top, just to gently soften the look. This creates a really natural, beautiful brow. So there you go. See what a difference a brow makes? Brows and lashes can completely change the whole face without looking too made up.
Thanks for tuning in. We'll see you next time. Leave your comments below.