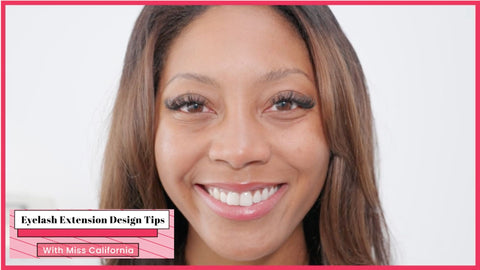 Creating the Perfect Lash Extension Look for Every Eye Shape
Today we are giving an overview of lash extension design and how to create the perfect look for every eye shape. Whether your clients have round, almond, hooded, or monolid eyes, we've got you covered. So, let's get started!
Before we begin, it's important to note that lash extensions should always be applied by a professional technician who is trained and experienced in this field. Safety first, ladies! If you found this blog and are looking for a LAshX Certified pro near you CLICK HERE. Now, let's talk about finding the right lash extension to look for each specific eye shape.
Here is a graphic of the most common eye shapes that you will be designing on. 
Round Eyes 
 If clients have round eyes, we want to enhance their natural shape and elongate them. The key is to focus on creating length and volume at the outer corners of your eyes. By doing this, we can create a more elongated, cat-eye effect. Opt for longer lash extensions towards the outer corners and gradually shorten them towards the inner corners.
Almond Eyes
Almond eyes are considered the most versatile eye shape, as they can pull off a wide range of lash extension styles. To accentuate the beautiful almond shape, go for a mixture of long and medium-length lashes. This will open up your eyes and add a touch of drama without overwhelming them. Length focused over the center of the eye will make the eye appear larger and more open. 
Hooded Eyes 
Hooded eyes have a more prominent brow bone, so the goal here is to create the illusion of a lifted appearance. Choose lash extensions that are longer in the middle and shorter on both ends. This will help to open up the eyes and make them appear more awake and refreshed.
 Monolid Eyes
Monolid eyes don't have a visible crease, so our aim is to add depth and dimension. Opt for lash extensions that vary in length to create a textured and multi-layered effect. Focus on adding more volume towards the center of your lash line to give the illusion of a fuller, more defined eye shape.
 Conclusion and Tips
We've covered the basics of creating the perfect lash extension look for different eye shapes. Remember, it's essential to consult with a professional lash technician who can guide you through the process and customize the look to suit your individual features.
Here are some quick tips:
Choose a lash curl that complements the natural lashes and eye shape 

Avoid lash extensions that are too heavy for your client's natural lashes to avoid damage and a heavy lid look.

Have your client maintain proper lash hygiene by cleaning them regularly with a lash-safe cleanser. LASHX CLEANSER .
Utilize, length, curl, volume and shape to acheive the perfect look for each client
Always use at least 3 different lengths and stagger them to prevent the "Broom" look
More curl will give a more dramatic look without adding extra length or weight. 
Colored extensions can create a more natural OR more dramatic look depending on style.
Lastly, map out your design ahead of time if you are just learning! 
Post your favorite designs in the comments below! What is your favorite curl to use? We want to hear from you. 
Want to learn more, from the most extensive lash training on the market? Learn about the LAshX Trainings here 
Use Code: Design10 for 10% off any lash classes.