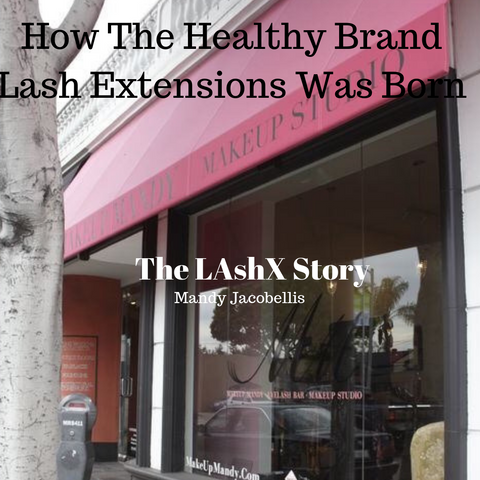 I hope today you take away some tips to build your lash business to a sustainable profiting enterprise.
My name is Mandy - my quick story for those who don't know, is that I started manufacturing healthy lash products because, as a lash stylist and salon owner, I wanted a healthier better quality products than what was currently on the market. I had become allergic as many of my clients to the lash adhesives that were available. After taking allergy meds so that I could wear my lash extensions to Las Vegas I decided there had to be a better way. 
Every product in the LAshX line is designed to fulfill a need that I have had as a client or experienced as a lash stylist / salon owner.  Every day is a change for me to research and develop. For me and that includes the input you guys pass on. I want to hear your individual experiences and needs as well!
But this article is about you taking your business to the next level and we at LAshX want to help you get there!
Today I am going to focus on Business building, helping you all to make more $$$. 
One of the question I hear all the time is:
How do I make more money and still compete with lash places that are charging less and less in my area?
We were just at ISSE trade show in Long Beach and we spoke to so many of you having these same challenges.

ADDING VALUE
Instead of differentiating yourself on price, look for other ways to stand out from the rest. With our LAshX system our clients lashes outlast the competition while improving their lash health. Your technique is at the top of your game and the results cannot be compared to. Differentiate on value, artistry, health, safety and longevity of wear!
How many times have you had that loyal client go for a groupon somewhere else and then they come back to you because of the damage? Some times it take a moment but most clients do recognize the value that we provide. 
As a lash professional there are 3 ways to "give yourself a Raise"
1. Increase your prices
We spoke about differentiating on value, rather than cost but how do I actually increase my prices? I have been doing lashes for years and I am afraid if I raise my prices my clients may go elsewhere.
It is very Difficult to just raise your prices. Especially as competition grows, but there is a way to do it! It's by offering an "upsell" or a value added product/service to let clients choose to pay more for something better.
Here are some ideas:
                       Charge more for a different service: Color blending, Volume lashes, Hybrid.  The idea behind this is that you still have your tried and true service at the current pricing but clients have the option of paying more for something better.  9/10 people will switch if its a better product with a better value.  = Raise! Remember your Income = $/HR worked so make sure the time and price increase make sense for you.  
For salon owners: Charge based on demand, if you have a stylist that is always requested and other stylists with more time. Create two different price points to balance the load and give the "Master" Stylist a raise.
2. See more clients per time allotted
             Shorten the time it takes for a service. This one takes practice, great technique and good products. With the right products, the LAshX Speed Adhesive, and Speed Trays I have gotten my Volume lash full set down to 1hr 15minutes.
 Also x tweezers, allow me to flip the lash around without straining my wrist. No matter what the lash is in the perfect position for application so its perfect EVERY Time. This saves me so much time because I don't need to play with the lash once I have picked it up.
 X Tweezer will save you time, or give you a raise, in under lashes, brow extensions, and classic lashes because you can pick up the lash extension and flip it around quickly. 
3. Add product / service sales to each client
We lose a lot of time and energy each day switching between clients, cleaning linens, tools, setting up rooms. Not to mention when clients are late! We essentially can give ourselves a raise by offering Less clients more services. The client is already in the room and relaxed. Think of a list of quick and easy things you can add on to the appointment.  A typical lash client of mine will do her lash touchup, under lashes, brow tint, brow wax, Brow fill, nose wax, lip wax chin wax.  Income =$429  and takes me about 2 hours = $215/hr vs. $160 an hour ($200 per 1 hour touch up plus 15 minutes between clients.  Plus then I have more clients to book up the rest of my day and week!
4. Adding on Cleanser and Proliner to each sale
Obviously Product sales is the number 1 way to give yourself a raise because it takes very little if no time to make this money. Selling 1 Proliner for 140 ($70 profit) maybe takes 10 minutes. If you could become great at that that is a potential of $420/hour :) So how do you insure your clients take home products? Offer them products that will save them money, by helping their extensions last longer, and make their own lashes healthier! Who would say no?
$70 profit x 10 per week is a $700 per week raise! 
Many people ask me, why would I want my clients lashes to last longer, that means they come in less frequently. Lash stylist often ask me if this would lower my business' profits because clients arent paying as often.  The answer to this is no!  when your client can go longer between fills, they are more likely to continue wearing the lashes and will be willing to pay a little more for the value.  They actually will save money. I am a great example, as a busy mom, I know I don't have time to get my lashes filled every 2-3 weeks. I would gladly pay more to come less often and get better results. Plus word will spread quickly that your superior work lasts longer and saves them time and money equaling more clients coming in the door.  When clients come less frequently, you may see more clients, at a higher rate! You will also have then more opportunity to sell retail so its a win win win. Again we are differentiating ourselves.
So How do we sell the cleanser?
How many times do you do amazing work to have the clients come back with a mess and say "my lashes aren't lasting? You and I know home care is 90% of the battle.  Its our job to educate our clients on this.
How do we educate and emphasize the importance of home care? 
We have the client sign the consent on first visit explaining that they must follow after care instructions to keep lashes healthy and safe.
Then we show the client how to clean the lashes, this is the primer and the prep, and where they actually learn to use the cleanser. At this time, before you actually start the service you explain that they will be going home with the cleanser today an must use it at least 3x per week. Clients seem to pay more attention before the service, after I find they are too excited about their new look to really listen well. 
How we sell Proliner ?
 I like to explain how the Proliner works while the client is getting the service. I usually explain where it will be most beneficial to put it whether in brows, lashes or both. I also explain why its so different from other growth serums on the market. (That is prolongs the growth cycle instead of speeding it up).  Then after the service I will usually offer to put the liner on the client so they can see how amazing it looks! 
For those that aren't completely booked, how do I get there?  (Without putting myself on sale)
-Social Media is a great way to get new clients through the door a lifnd its free
 on Instagram - utilize Hashtags - cross promoting - your bios. I love Instagram because its a real time portfolio of your work. I will do another blog post on maximizing social media but for now make sure to follow @lashxla and #lashx and we will try and feature your work and account.
Facebook groups are great as well as face book fan pages. 
Reviews are important. Make sure your best clients are reviewing you on sites such as google and Yelp. 
Some other marketing ideas that we will get into detail further in upcoming blogs are:
- Events
Lash and lounge, Party lashes with lash grower
- Promotions
Get your clients excited about events, new looks, new products,
- Added Value
Instead of discount think how you can add value, not at your expense
-paraffin, glass champagne, cleanser
-Packages
Multiple visit savings or benefits
 Please leave comments below and let us know if you try any of these ideas! 
Love your lashes, Love your life,
xo
Mandy